GGMC Rockhounds
The Greensboro Gem and Mineral Club, Inc. was founded in 1954 and became a non-profit corporation in June 1999. The objectives of the Club are to promote interest and knowledge of gems, minerals, fossils, and Earth Sciences. It also provides instruction and information pertaining to rock-hounding and lapidary arts and crafts. These objectives are achieved through club field trips, classes, workshops, and regular Club meetings.
GGMC Meetings
VISITORS ARE WELCOME
Meetings are held at 7:00 PM on the first Monday of each month (except holidays)
New Garden Friends Meeting Hall
801 New Garden Road
Greensboro, NC 27410
GGMC Directions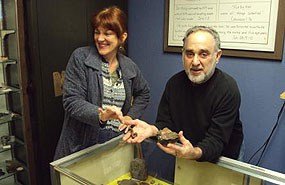 From Interstate 40 (I-40) take exit #213 north towards Guilford College on Guilford College Road. Approximately 2.25 miles north you will cross Friendly Avenue. Turn left at the next stop light into the driveway of New Garden Friends Meeting Hall and use the last entrance of the building at the steps.
Come share the passion.

---
Scroll Down Below Banner for Information on:
6th Annual Piedmont Open Air Gem, Mineral & Jewelry Show
June 3th 2017 at the Piedmont Triad Farmers Market
Click Here to Download PDF Graphic Below
---
GREENSBORO GEM AND MINERAL CLUB, INC.
Greensboro, North Carolina
February 10, 2017
Dear Vendors,
We are pleased to announce our 6th Annual Piedmont Open Air Gem, Mineral & Jewelry Show. June 3th 2017, and invite you to be a vendor at this year's event.  We have an exciting new venue that has great visibility and experience with outdoor shows.  We will be located at the Piedmont Triad Farmers Market off Interstate 40 and Sandy Springs Road in Colfax, NC,  easily accessible from Greensboro, High Point and Winston-Salem.  This earlier weekend should be cooler than our past shows in mid June.  The site is a large grassy field, the first area on the left entering the campus, with a limited number of electric and water hook ups available.  There is ample parking with food vendors and a restaurant on site. The Farmers Market has security on staff as so will we have a security officer for the Show.
This location has thousands of customers on weekends during the growing season with great visibility and advertising  capabilities.   We will be featured on their marquee on I-40 and on television and radio stations.  We are already on their website, www.triadfarmersmarket.com Please take a look to see images and web cam of the Farmers Market. The show hours are 9:00am to 5:00pm. Vendor setup is 7:00am to 9:00am. Take down is 5:00pm to 7:00pm. There is NO ADMISSION for attendees this year. Please see the attached Vendor Contract for more information.
We are advertising in the following media:
Rock & Gem Magazine                                   YES newsletter
Our State Magazine                                        O'Henry Magazine
Go Triad weekly Magazine                             Greensboro News & Record newspaper
TV Channels:   2 (CBS), 8 (FOX), and 12 (NBC) online events
GGMC Facebook and MAGMA Facebook pages
Direct e-mailings to state clubs
Please return the signed Vendor Contract with payment in full by May 15, 2017.  Spaces are on a first-come, first-served basis.   Show will be held Rain or Shine.
Greensboro Gem and Mineral Show
C/O Gary Parker
6601 Lismore Drive
Brown Summit, North Carolina 27214
336-402-5252
Click Here for PDF Version of This Announcement
---
Piedmont Open Air Gem, Mineral & Jewelry Show
Piedmont Triad Farmers Market
Sandy Ridge Road at I-40
Colfax, North Carolina
Dealer setup 7:00am
Show Hours- 9:00 am to 5:00 pm
JUNE 3, 2017
10'x10' booth size is $40.  Double sizes are available.
Please make checks payable to Greensboro Gem and Mineral Club Inc.
Dealer or Business name: ____________________________________________
Description of exhibit:  _____________________________________________________________________________________
Return this copy to:

Greensboro  Gem  and  Mineral  Club

Gary Parker

6601 Lismore Drive

Browns  Summit, NC  27214

336-402-5252

ggmc.rocks@gmail.com
Application Date: _______________
Contact Name: ____________________________________
Address: _________________________________________
City, State and Zip Code: ____________________________
Phone: __________________________________________
Website: ________________________________________
Email address: ____________________________________
Electricity needed?_________________________________
The Dealer hereby agrees:
To be responsible for collecting 7.5% Sales Tax on merchandise sold; and to be responsible for filing those taxes collected with the State of North Carolina. Please enclose a copy of your sales tax license if available or list Tax ID number.
To refrain from sub-leasing any part of the allotted space, and to restrict displays to assigned space. Please don't ask your neighbor to move. Spaces are generous in size. Please see a Club volunteer to help you work out any issues.
No 'Show Special' signs permitted. NO EXCEPTIONS!
The show is rain or shine and all booth materials are to be provided by the merchant.
Vendors bring their own tables and canopy/tent, chairs. Vendors can use nails/stakes to hold down their tent. Surface is a grassy field.
Restrooms are available.
NO ALCOHOL PERMITTED.
Food vendors and a Café' is on site at the Farmers Market or you may bring your own food.
No pets are allowed.
Vendors are responsible for draping the front of their tables.
No portable music is to be played.
Vendors to supply to club one item for hourly door prizes. Club will supply grand prize.
No vendor vehicles allowed in vendor area once show opens.
Vendor setup is 7:00am to 9:00am. Breakdown is 5:00pm to 7:00pm.
No vendors will be allowed to take down before show is closed at 5:00pm.
Vendors are responsible for their own booth. Leave the area as you found it. CLEAN.
Once contract and payment in full is received, a confirmation notice will be sent out.
Please indicate what size booth you require. 10×10 for 40.00 or 20×10 for 75.00.
Vendors agree to comply with all Municipal rules and regulations, the policies of the Facility being utilized to hold the show, and the rules set forth by the Show Committee the dealer releases and discharges the Greensboro Gem and Mineral Club, Inc., its members and the Show management from any responsibility, liability, loss or damage of any type. If for any reason the show has to be canceled prior to 30 days before setup the applicant waives any claims – except for monies paid.
Name Tag Form (required for all dealers and booth workers)
_______________________________________________
_______________________________________________
_______________________________________________
By returning this contract you agree to the terms and conditions as set forth above.
Click Here for PDF Version of Vendor App